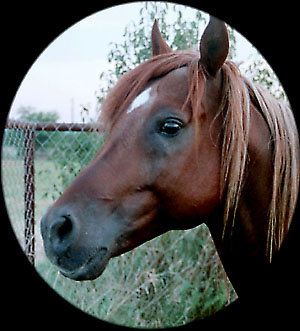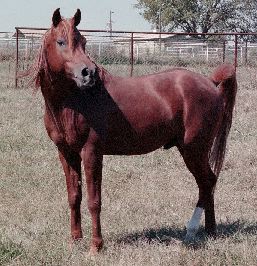 SA Starantez
Bred by Bill Oates, Owned by Bedouin-Bred Arabians
Most of the time, Star is calm, relaxed and confident. Until I brought him to BBA, he'd only left the farm one time in over 8 years. Yet he loaded calmly, without incident, and rode the same way for more than 14 hours on the haul to his new home. Charles tells me he probably inherits this from Cressida, who appears twice in opposite corners of his pedigree.

Not hardly the fire-breathing dragon an Arab stallion is reported to be, huh?

Hey! You shorted me on the alfalfa!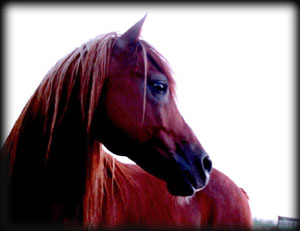 This shot is much more representative of his color, which changes with the light. Starantez is one of the rare horses in the world with a metallic sheen in his coat. When the sun hits it, he has a vast array of highlights in it, ranging from the brown in the above to this color here, to that of a freshly minted copper penny. Truly breathtaking!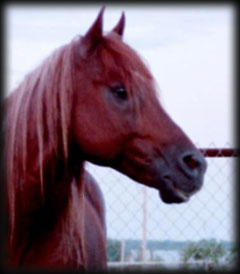 No accounting for Star's daddy's inability with a camera... but in this one can see the beauty of this boy - a fine, proud, sweet and gentle representative of his Arabian heritage and history!

Does this boy ever do anything but eat?!

Well, yes, there is ONE other thing on his mind!

More (and hopefully better) photos to come!

My thanks to Brigitte (of Holland) for taking these pictures of Star during her visit to the States this Fall, 1999. Here's to the Netherlands getting a Davenport of their own!

Starantez & John, Fall 1999

Mean old stallion, so hard to lead... Say "G'bye" Star!