SOAVE'S STORY
When I got the email from Karen Brooks about a Davenport mare she'd met some years ago back in Amarillo, TX, I kept my excitement guarded. Surely anyone who had a Davenport would know what they had, would have intended to buy so quality a horse, and would hardly be interested in selling her. As I researched the pedigree, the excitement grew - and I prepared myself for whatever groveling might be necessary to acquire her. Her dam had (argueably) one of the prettiest heads Charles Craver had ever bred, and her sire, well, Sargeant Major can come live here anytime, and HIS dam, Major Barbara, is one of my all-time favorite Davenports... but I digress... Charles encouraged me to acquire her, whatever it might take, and so the hunt began.
As the search for her current owners progressed, it became apparent that these people did not, in fact, have any idea how well bred a mare they had. They had purchased her from a boarding facility for the back-due board, and yes, in fact, they were interested in selling her. In fact, they'd presumed I was calling from an ad they'd placed.

"How much did you want for her," I inquired, hoping for some rediculously low auction price, but prepared for far worse. "Well... can you take payments?" They could, they would, and after a few gyrations with haulers and bank wire transfers, Soave was on her way here, sight unseen.
---
I should probably confess that grey has never been my favorite color for a horse, and flea-bitten my least of the grey possibilities. None of that mattered one little bit when this magnificent creature, so obviously a Saqlawi-type Davenport, stepped out of that trailer and took a prance about her quarantine corral. She had some untended cuts and scratches, and had spent a day and a half in a trailer, but the movement alone would have given any horseman hot flashes, and the upright carriage, the regal bearing, well... Just take a look for yourself!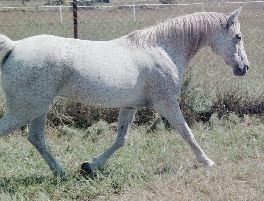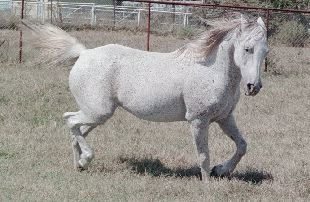 Now I ask you, how often does a mare show this sort of statuesque beauty and form?
When she was let out of her quarantine corral, it was my intention that she'd share quarters with Starantez, that I'd be able to keep them together as a herd. Perhaps it would have worked out eventually... but after two days of her trying to take his head off any time he came within 15 feet of her, I realized her time in unappreciative hands had taken its toll, and was patently unwilling to chance either of them being hurt. So Soave and Starantez don't share the same pasture at the same time anymore... but I still hold out hope that one day she'll allow him to sire what I'm certain will be one beautiful baby!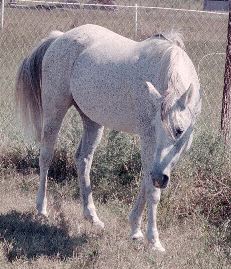 Here at Bedouin-Bred Arabians, the only horse who gets away with not being ridden is Starantez, (and that's changing very soon as well.) Soave was originally started to ride English, and reportedly shown some under saddle, but when the cowboys got hold of her, they .... well, can you say "mutton-handed?" So now she wears a rope halter with reins clipped to it, and we all get along just fine. An intelligent and sensible mare, she doesn't take well to bullying, but if you'll only ASK her, she'll give you just about anything.
Soave has to go now, but hopes you'll visit her again soon!